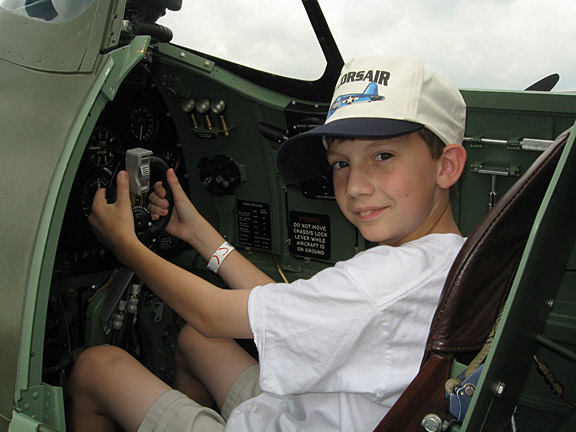 I've been to Oshkosh 25 times in the past 35 years, but what Sky got to do this year amazed me. He and I were walking back from visiting the display buildings, going thru AeroShell Square to our plane for lunch we he saw Glacier Girl. He wanted to see that, so as we were walking over to it, I saw they had a Spitfire parked besides the P-38. "You go see Glacier Girl, I'll be over here looking at the Spit," I told him. I walked over to the roped-off Spit and realized I knew one of the pilots, Doug Rozendahl. We were talking and when he asked if I still lived in St Louis, the other pilots head spun around so fast I thought it would snap off. We stared at each other a few seconds, then broke out in big grins. It was Jim "JD" Dale, whom I had flown with a Trans States many years ago. He was now working for the owner of both airplanes, Rod Lewis. We talked for a while. Sky came back and I introduced him. Then JD got this goofy look on his face and asked,"You ever wanted to sit in a Spitfre? How about now? He lifted the rope up and ushered us in to see the Spit up close.
I was floored. "Step on the wing, not on the side panel, you can step on the seat and you're in." As quick as he said it, Sky was sitting in a magnificently restored Mk Vb Spitfire. JD answered all Sky's questions and then helped him out. "Ok, your turn."
I was sitting in a real Spitfire cockpit. One that Don Blakeslee had actually flown.
We got out, thanked Jim profusely, invited to come see our Fairchild 24 and floated all the way back to our airplane.