Fixing the Fairchild
This page is dedicated to my friend Glenn Peck, who does all the maintenance on N690FA.
His website my be seen at http://www.peckaeroplanerestoration.com
(Look at the 1929 Zenith Z6a we're about to fly!)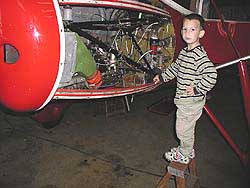 Hand me a 7/16's, will ya?
Don taking the cylinders off for a top overhaul.
Glenn working on a door mechanism.
With the fabric peeled away, Glenn examines the broken tailwheel part. I was pretty nervous at this part.

He wasn't.
| | | |
| --- | --- | --- |
| | | |
| Glenn welds a new yoke attach fitting for the tailwheel. | The broken fitting, top center. | So one day I decided to paint... |
Fairchild 24
Places We've Been
Antique Airplane Fly-In @ Blakesburg 2007
Creve Coeur Airport
The Historic Aircraft Restoration Museum's DeHavilland Dh-4!
Photographs